SafetyScan
- Saves lives
- Reduced corporate risk
- Increased employee productivity
- 7/24/365 safety supervision
- cost effective
Is your workforce SafetyScan Certified?
11% of Alberta workers reported using alcohol while at work
48.7% of Canadian adults said they had used cannabis during their lifetime and 17% said they have used other illicit drugs.
According to a recent Bloomberg Politics poll (April 2015) "fifty-eight percent of U.S. adults say recreational marijuana will be legal nationwide in the next 20 years".
"30 to 40% of US trucking accidents are fatigue related"
Comprehensive impairment screening for alcohol, drugs and cognitive fatigue in a changing world.
Join Us!
We invite you to join us in creating a safer workplace - one that keeps workers safe and respects their privacy while at the same time protects corporate assets and the environment in a cost effective manner.
contact us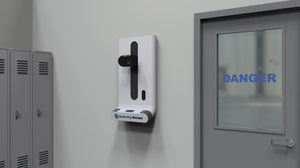 SafetyScan 2.0 Impairment Screener
Sale price Price $0.00 Regular price